How it All Began...


Jack Roush
, the creator of the Roush Mustang and the originator of Roush racing, began his career in 1964, as an engineer at Ford Motor Company. At the same time, like the rest of America, his love for the new Mustang included the purchase of his first Mustang in 1965. Roush's interests led him to racing and a profession as a drag racer. But his love of racing led him to other endeavors, including SCCA Trans AM, IMSA and NASCAR. Like another Mustang icon, Carroll Shelby, Roush was also a strong businessman, using his educational background and engineering expertise to found his own company, Jack Roush Performance Engineering in 1976, which led ultimately to the current Roush Industries.
But it was his other company,
Roush Racing
, which he started in the late 80's that made headlines throughout professional auto racing. Some of the big names associated with Roush Racing include Matt Kenseth, Mark Martin and Carl Edwards. The Roush Ford Mustang was born of Jack's love of racing, hot rods and his personal love of the Mustang. What made it all work, was his OEM expertise, engineering and manufacturing capabilities, combined with his deep knowledge of how to make any kind of race car go fast. Unlike many other "tuner" Mustangs where a body kit seems to be most of the modifications, or perhaps engine performance enhancements, with some body mods, the Roush Mustangs were created to blend performance, handling and looks into one slick package.
In 1994, the First generation of Ford Mustang based cars hit the streets. The cars were offered in Three Stages.
Stage l
was strictly an appearance package, consisting of body add ons.
Stage ll
added a race proven suspension package, which pushed Mustang skidpad numbers into areas most pony car enthusiasts had never seen before. Pieces included Hyperco coil springs, Roush/Koni double adjustable struts and shocks, 30mm front and 27mm rear sway bars.
Stage lll
included hot rod techniques and parts from the Ford Racing bin to bump up power from the stock GT by almost 155 horsepower.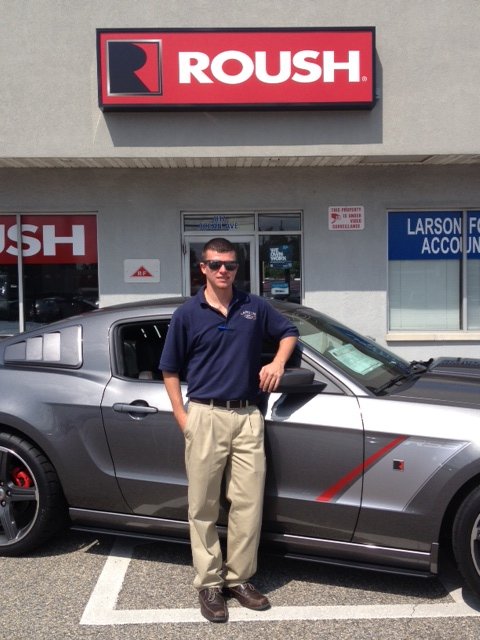 Happy and Proud ROUSH Owners

**PLEASE CONTACT MICHELE (EXT 503) OR  CHRIS (EXT 542)
TO FIND OUT HOW YOU CAN BE OUR NEXT  HAPPY AND PROUD ROUSH OWNER**


Our Happy Roush Owners
 


MaryBeth and Charles from PA

 Josh from Eden, NY